Regular price
Sale price
44,90 €
Unit price
64,14 €
per
l
Sale
Sold out
You don't know Tambour Original's Sodabi? We felt the same way until we tried it for the first time. We were immediately struck by its unique taste.
14 tropical fruits and spices give Tambour Original its unforgettable taste. Tambour Original is a masterfully distilled palm brandy from the tropical coast of Benin in West Africa, celebrating the region's proud roots and spirit traditions.
Sodabi are said to have magical powers that protect against misfortune and evil spirits. So if you're looking to banish spirits or just want to try something new, Tambour Original is for you.

TASTE
Tambour caresses the nose with an intensely fruity and powerful aroma. On the palate and on the tongue it is also full-bodied, sweet and complex with notes of hibiscus, dates and honey. The Tambour has a strong but not burning taste and shows a light floral note.
CHARACTERISTICS
Alcohol Alc. 45% vol.

Double distilled
Matured in American oak barrels
Elegantly sweet, spicy, long, intense finish
Enjoy pure or in cocktails
Content: 700ml

IMPORTANT
Danger! Protection of minors - No delivery to persons under the age of 18! - This product will only be delivered personally against proof of age!
shares
View full details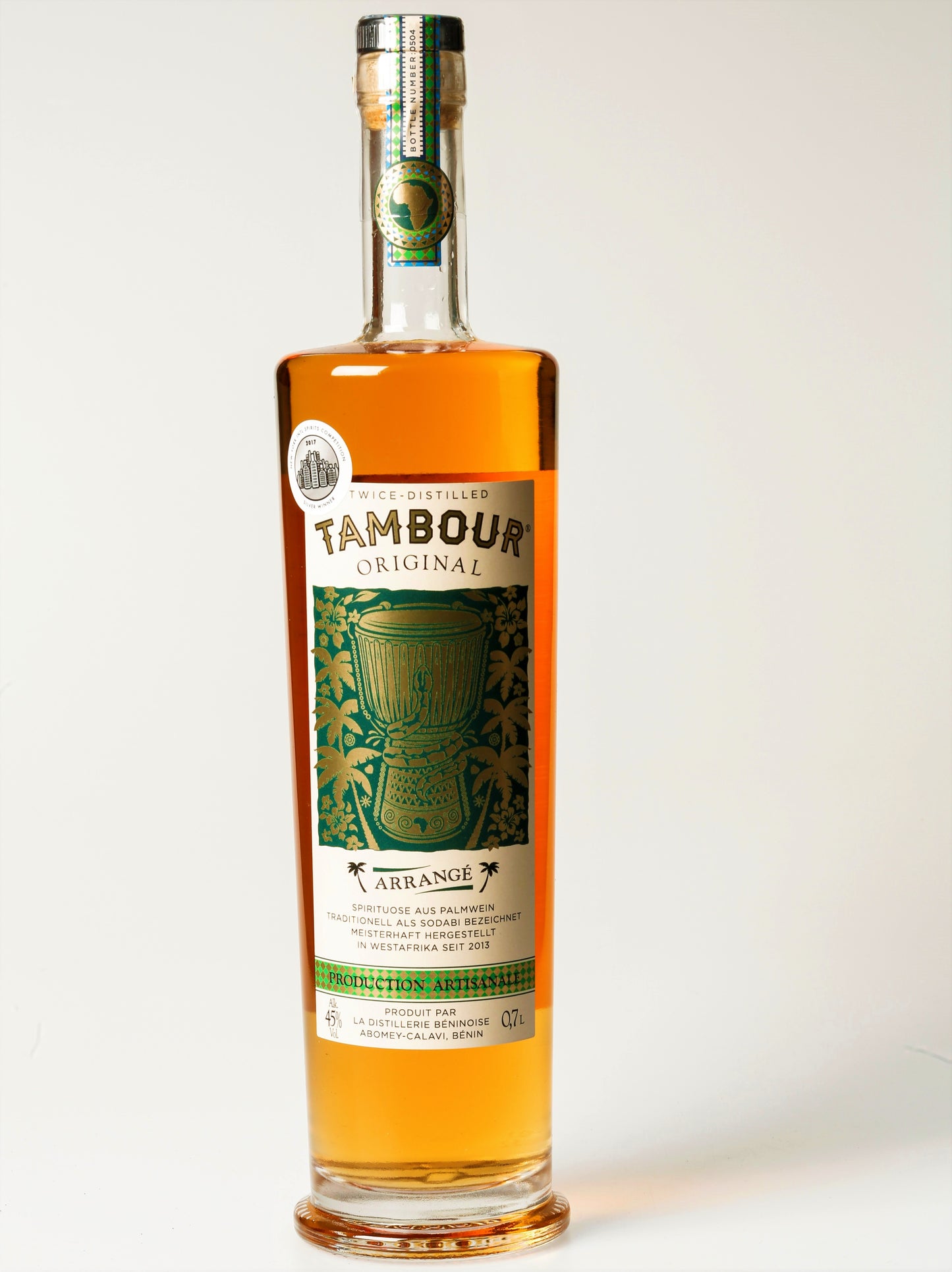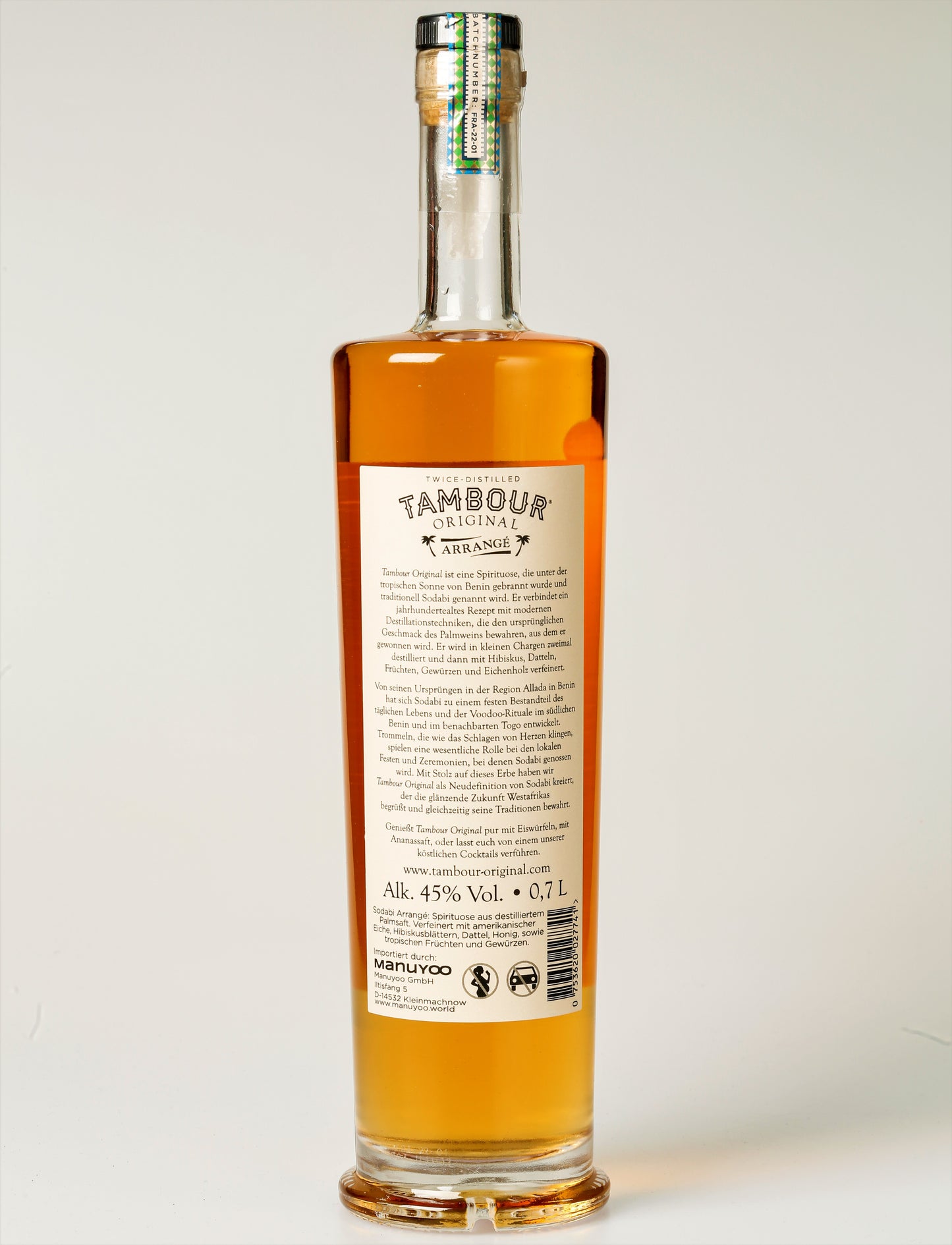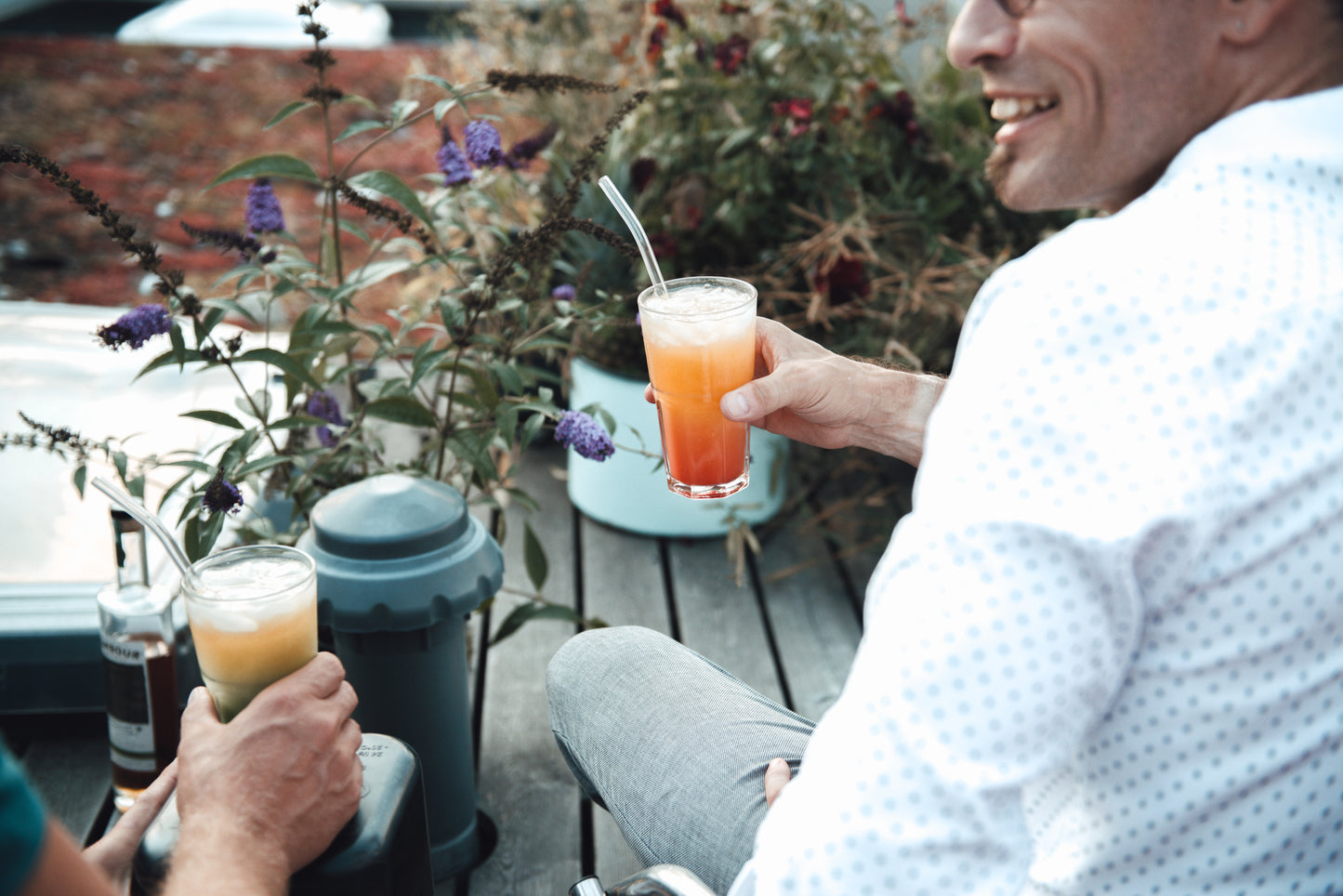 About drum
If you are tired of Gin&Tonic, Benin offers you the option of getting something completely new into your glass: 'Tambour Original', a traditional liqueur distilled from palm trees, with its natural sweetness an ideal basis for sophisticated cocktails and highballs.

Palm liqueur, called 'Sodabi', has been produced and drunk by people in West Africa for centuries. In Benin it plays a central role in voodoo ceremonies: Sodabi is said to drive away evil spirits from the living and as a gift
Make sure the deceased is in a good mood in the dead world as well.
Jake Muhleman , owner of a small distillery in Cotonou, has that
Traditional drink further developed and refined together with his team: 14 tropical fruits and spices give 'Tambour Original' a new, unique aroma.
Learn more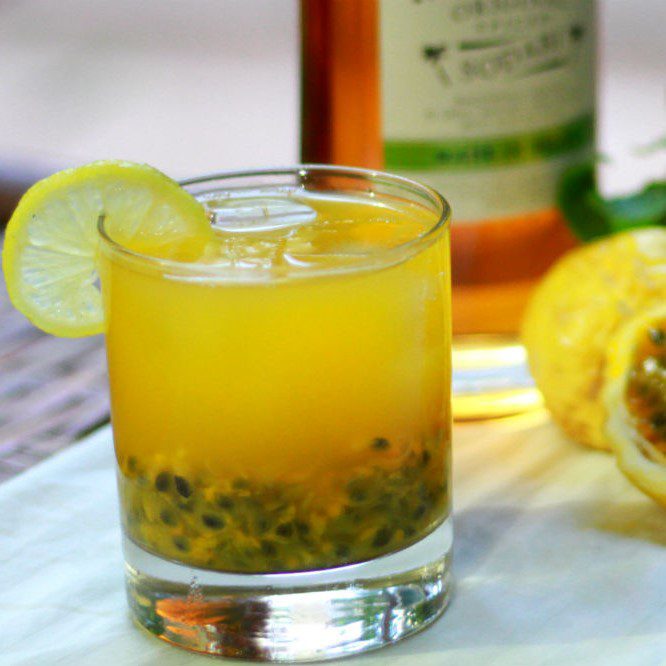 cocktail creations
Are you looking for suggestions in which cocktails the Tambour Sodabi can be used? We have put together some suggestions (and of course we have already tried them)...
Discover cocktails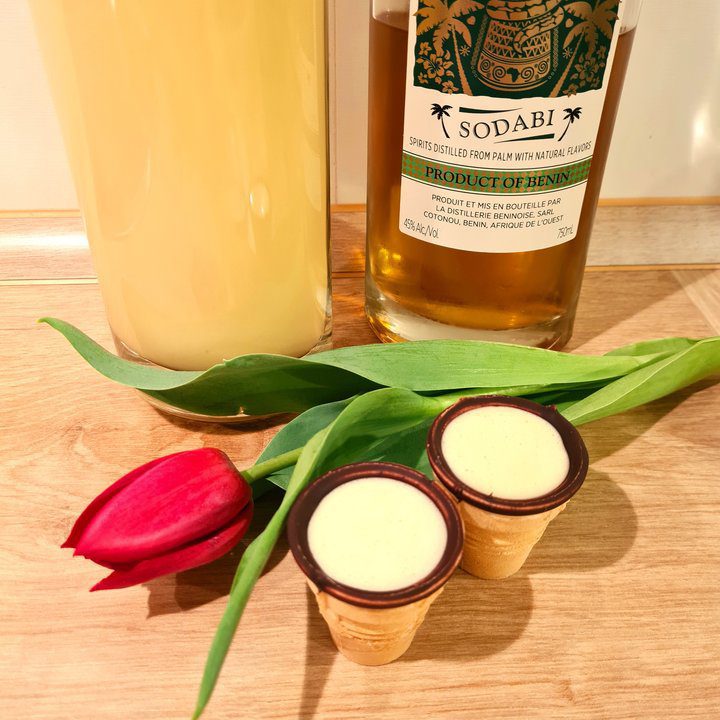 Andy's Blonde Angel - Eggnog
4 egg yolks
125g powdered sugar
200 ml condensed milk
1/2 packet vanilla sugar
12cl Tambour Original Sodabi Arrangé
Whisk together the egg yolk and vanilla sugar. Add the powdered sugar, condensed milk and tambour. Heat slowly in a water bath, stirring constantly, until the eggnog has thickened. Do not let cook.
Fill while still warm and dilute with milk or Tambour Original Sodabi if necessary.
Makes 0.75 l.